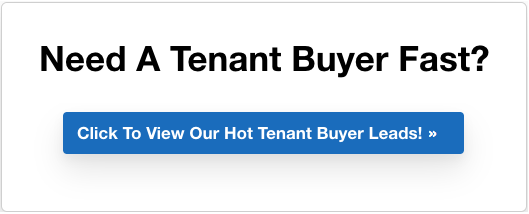 Find Tenant Buyers... Or Buy Them?
There's nothing quite like the sweet feeling of locking in a lease option contract!
But you can't sit on your laurels; you can't rest until you find tenant buyers.
But finding tenant buyers can be a tough battle. I know because I've been down that rocky road many a time myself.
You break out your brightly coloured correx board and your trusty black marker pen...
You head out in the the dead of night and strap it to a lamp post with those cable ties you picked up in B&Q...
The next day the calls start to trickle in... but it's not what you expected at all...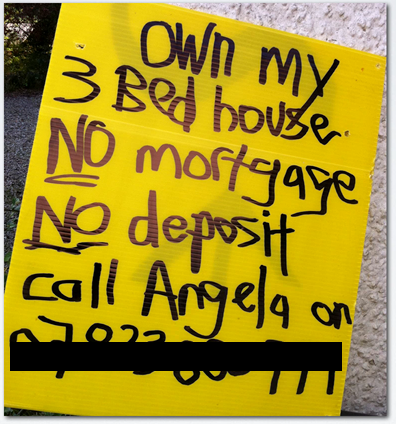 None of the callers are suitable for your new property at all; and you're having trouble helping them get their head round rent to buy.
Wouldn't it be easier if they already knew how rent to buy worked?
And you just had to show them your place and they'd sign on the dotted line.
That might be oversimplifying it a little, but you can come close with our tenant buyer leads.
What's different about our tenant buyer leads?
Educated buyers buy quick...
Well, they know what rent to buy is for a start. 
How do we know? 
Because that's what they searched for on Google to find us. They found us, and then they were motivated enough to fill in a fairly lengthy form on our website.
At which point they became one of our hot tenant buyer leads.
My point though is, that because they're already educated on rent to buy, and they're actively seeking rent to buy opportunities, they're far more likely to jump all over your rent to buy opportunity when they see it.
Of course, we can't guarantee that. And we can't guarantee that they'll pass whatever vetting you'll obviously want to do on them. 
And that's why our leads are so darn cheap -- we've not spoken to them, only received their details over the web.
But we certainly can guarantee that you'll be able to get hold of them. Because if you get a wrong phone number, or a duff email address, then we'll give you every penny back. Or exchange it for a different lead, if you prefer.
Tenant buyer lead example...
Before you buy, for each lead you can see date of enquiry, location, property type, number of bedrooms, and how much rent they can afford. 
Here's an actual example of one of our leads:
Date of enquiry: Feb 09, 2020

Location(s): Birmingham 
Type of property: House
Number of bedrooms: 3
How much rent can you afford per month?: 600
After you purchase the lead, you'll be given the prospect's name, email address and phone number too.
And don't worry about GDPR, they consented to being contacted by a third party investor (you) when they signed up.
The rest is up to you. But as I say, these guys and gals are keen, so you hopefully won't have to work too hard!
Anyway, I think you get the picture by now. Why don't you just hop on over to our tenant buyer leads store and take a look at what we have available. 
Find tenant buyers with our alerts...
And if you want to get alerted as soon as new leads are added (we get several fresh ones every week), I recommend that you sign up for our newsletter.
Oh, and if you do a lot of lease option deals in a particular area, let us know and we may be able to focus on generating more leads in that area for you.
<< Back from Find Tenant Buyers to Creative Property Investing

<< Back from Find Tenant Buyers to Property Investment Blueprint