Property Investment
Education
In this section we'll look at some of the best property investment education products on the market... seminars, books, webinars, eBooks, courses, coaches and magazines.
Then there's our own Deals On Demand program, which to be honest is more of an investing system than a course.
Beware the sharks!
Recent years have proven that property investment education is a bit of a minefield.
With certain property seminar companies and gurus having gone bust during that time, it is hard to know where to turn for reliable information on how to invest in property.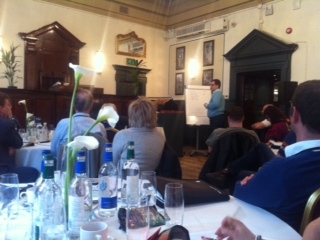 Some education companies are better at sales than they are at property investment training and will up-sell you course after course with the carrot that you get the *really* powerful stuff on the next one.
Of course, the "seminar junkies" love this... they get addicted to the motivational rush of attending course after course but sadly often never get around to implementing anything they've learned!
Don't get me wrong, your property education is the most valuable investment you will make... in fact I recommend you make this investment before going anywhere near an actual property investment.
Just choose wisely!
How do you choose a property education product?
Here are a few factors you might like to take into consideration when choosing the best product for you:
What is your preferred learning style?

Everyone usually has a preferred learning style -- or perhaps a couple. For some people, it has to be good old fashioned print. Others like to save trees and read a property investment eBook on their PC or iPad.

Some favour audio books or CDs that they can listen to whilst doing the ironing(!?) or in the car.

Or maybe you are a very visual person who needs to see the person giving the training, either on film or in person, to fully appreciate the material being presented.

If the latter, do you prefer to learn in groups or on a one-to-one basis?

What is your budget?

The strategies and tools that you acquire in a good property investment education have the ability to make or to save you many thousands of pounds...

The mistakes you can make if you lack a good property investment education have can lose you many thousands of pounds...

On that basis, tell me it's not pretty damn logical to invest heavily in your property investment training?

So, if you are serious about a career in property -- or at least accumulating some wealth from property on the side -- then you cannot afford not to invest your education.

If you had £10,000 available to start your property career, then my advice would be to spend around half of it on your education. There are so many creative ways to finance property deals these days that you don't need to reserve loads of cash for deposits...

Indeed many investors start off with no cash whatsoever or even heavily in debt. However it is wise to set aside some funds for marketing, legal fees, valuations and contingency.

Research your chosen options.

Once you have a short-list of products or courses, read independent testimonials or forum posts to find others' opinions of the training before taking the plunge.
Bookend
This section covers a wide selection of products that are the cream of the property investment education crop. From seminars to courses to books to eBooks to property magazines, we've got the lot.
So, grab a cup of tea, sit back and see what there is on offer...
Property investment education index
Deals On Demand Property Investing System
We'll be cheeky and put our own course first. As you'll discover though, it's more of a deals acquisition and conversion system than a course.
We'll continue the cheekiness and list the rest of our courses second. We have everything from deal packaging to figuring out your goldmine area.
We'll throw decorum out the window completely and list out websites next... Choose from deal sourcing, deal packaging, rent to rent and more.
Free Property Investment Course
New to property? Or just new to creative strategies? Then why not check out our free property course. We cover everything from rent to rent to BMV to serviced accommodation.
In our new deal packaging course, you'll learn how to find deeply discounted deals and to "package" those deals on to hungry buyers for a generous fee.

Free Creative Property Investment eBook
New Property Investment eBook Reveals The Powerful Underground Tactics Being Used By The New Breed Of Investor To Profit From Property... Without A Bank!
Check out our recommended course on HMO investing (the number one way to massively increase your property cashflow!).
Property Investment Courses UK
This is a rundown of all our courses in one place.
Free eBook: "7 Steps To Financial Freedom Through Buy To Let"
Our esteemed colleague, Peter Jones, has made his new ebook available to our readers free of charge for a limited time.

We review the best-value and most respected of UK property development courses.
Free Property Investment Webinar
PiB runs regular educational webinars with guest presenters... discover what's coming up here.
Property Investment in USA: How to buy for pennies on the $
Exclusive webinar reveals secret system to purchase US property for as low as $2,000, that not even Americans know about!
We look at one in particular, where I learned a great deal.
The Ferrari of lease option courses. I learned so much that my brain nearly popped... 
Skyrocket Your Business With A Property Investment Coach

Top athletes and singers use coaches to reach peak performance... Could you benefit from a coach too?
A free download of my book about letting.
13 Property Investment Books that Changed the World

There are a lot of rubbish property investment books out there. We list the decent ones here.
Announcing our forthcoming book, you can find a rundown of the working outline here.
Property Investment Video Library
All the PIB videos gathered together in one place for your viewing pleasure!

<< Back to Property Investment Blueprint from Property Investment Education