13 Best Property Investment Books that Changed the World
In this section, I want to share with you some of the best property investment books, property development books, property tax books and even a property management book.
To be fair, they're not all property investment books...
There are other books too, that I feel have helped make me a more effective property investor: motivational books, books about financial independence, wealth and self-development.
I've even slipped a couple of my own in there too -- see if you can spot them ;-)
Property investment books
"Property Investment Hacking" by John Wilson

'13 Ways to Ethically Shortcut Your Way to Financial Freedom in Property with Little to None of Your Own Money in 12 Months or Less'


In this book, John Wilson lays out 13 different "hacks" that the new breed of investors have adopted to buy, control or profit from property with little or even none of their own money and grow their portfolios faster.

Includes real life case studies and a generous free download package.

You can claim one of a limited number of FREE copies, here.



"The 44 Most Closely Guarded Property Secrets" by Rob Moore and Mark Homer

Rob and Mark are the guys behind the uber-successful Progressive Property investment and training empire. They tell the story of how they went from being £30,000 in debt to owning 20 properties worth over £2.5 million in the space of a year. Many regard this as a modern property investment classic.



"Make Cash in a Property Market Crash" by Rob Moore and Mark Homer

In this, the follow up to "44 Most Closely Guarded Property Secrets", Rob and Mark look at why now -- even though the media is spreading doom and gloom -- is the best time ever for investors to make a killing in the property market.



"Property Magic" by Simon Zutshi

This book by one of the UK's most respected property gurus, looks at how you can "buy property using other people's time, money and experience". He talks about how no matter where you live there are people in your area who will sell their property to you at well below market value.




FREE eBook -- "3 Killer Property Investment Strategies that DON'T Require a BANK"
It is harder than ever to get funding for property projects these days. Give two fingers to the banks with these proven strategies that allow you to profit from property without investing any capital.
Property development books
"The Housebuilder's Bible" by Mark Brinkley

This is considered by many to be the ultimate in property development books.

It covers everything from driveways to house-building and everything in-between. I particularly like the example costings it gives for everything. This can help your budgeting and to know whether your tradesman is taking you for a ride or not.

Check out our section on property development here.



Property auction books
"Buying Bargains at Property Auctions" by Howard R Gooddie

This property auction book is regarded as a classic in the field. Written by former head of one of the UK's biggest auction houses, it covers everything you need to know about the auction process to allow you to bag a bargain of anything up to 50% or market value!



"Hustle Your Way to Property Success" by Paul Ribbons

In this recent addition to the property library, Paul reveals his personal strategy of sourcing bargain property and then placing them into local auctions for big profits.

Check out our section on property auctions here.



Property tax books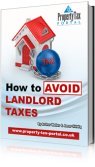 "How to Avoid Landlord Taxes" by Arthur Weller and Amer Siddiq
This is pretty much the final word when it comes to UK property tax books. Written in a down to earth way, with lots of real world examples. The authors show ways to legally save thousands of pounds on your tax bill.
What makes this such an amazingly good value package is that you get a bundle of free bonuses too:
101 Ways to Beat the Tax Man
3 free issues of their excellent Property Tax Insider monthly newsletter
Landlord Tax Management Software package.
Check out this property tax book here.
Property negotiating books
"Bare Knuckle Negotiating" by Simon Hazeldine

This isn't specifically a property negotiating book but it taught me loads of cool negotiating tricks that can be easily applied to property. It's not a long book and is an easy read.

Check out our section on property negotiating here.



Property letting and management books
"The Complete Guide to Residential Letting" by Tessa Shepperson

This book by one of the most respected figures in UK property letting, covers all the legal and practical aspects you need to know about if letting your own property.






"Start and Run a Letting Agency" by Steve Martin

If you've ever thought about setting up your own letting agency, then reading this book is an absolute must. There's no other book like it. It is extremely thorough and covers everything from choosing the best location for your business to selling it once you've built it...

Check out our section on property letting here.

FREE eBook -- "Secrets of Letting"
This letting and property management book has a lot of great info on getting your property ready to let and letting in general. I wrote it as a marketing tool for my old lettings business, so just ignore the hard sell at the end! :-)
Business and motivational books
"Rich Dad, Poor Dad" by Robert Kiyosaki

The book responsible for more people packing in their jobs and pursuing financial freedom than any other! It is an absolute must read for anyone looking to take control of their financial future.






"The E Myth" by Gerber

I think I mentioned before that I love systems. That's what this book is all about. Sound boring? Nope -- this book is a real page-turner and it'll make your business all the better for the gems contained within!









"Awaken the Giant Within" by Anthony Robbins

I steered clear of reading this for quite some time as I had a certain preconception about this self-made American motivational guru. To some extent I was right but there's no denying the inspirational boost that this book gives you.



Best Property investment books summary
On this page, we introduced you to a nice selection of the best property investment books. Some people are less well suited to learning from printed material though. If you're one of them then check out our other property education suggestions here.


<< Back to Property Investment Education from Best Property Investment Books

<< Back to Property Investment Blueprint from Best Property Investment Books