Property Letting Advice
From an Ex-Letting Agent
In this section we'll fill you in on the best investment property letting advice and landlord help... from how to market your property to pre-qualifying your applicants to performing viewings and everything in between!
I am obviously a little biased having been one but when people come to me for property advice, I always recommend using a good letting agent to let and manage their property.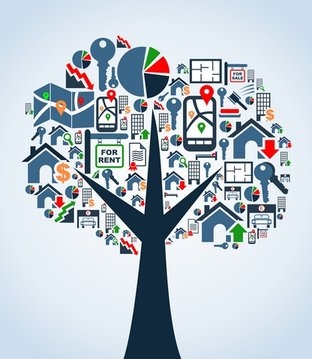 I truly believe that not using one can be a false economy for a number of reasons... But choose carefully as there are a lot of cowboys out there in this industry where regulation is only voluntary!
If you still plan to let your property yourself, then read on for some solid investment property letting advice...
Our section on how to let property talks about marketing your property for let so that it lets in the quickest time, to the best tenant for the best possible price.
Our section on how to furnish investment property will tell you just that... and also help you decide whether to furnish it in the first place.
Don't jump the gun... Pre-qualify!
It can be tempting to show your property to the first person who calls but not being selective can waste a lot of your time and energy...
Pre-qualify your prospects!
Decide up-front on the type of tenant you want for your property.
Then spend a few minutes on the phone to find out the following before you arrange a viewing:
Rental property viewings... Don't procrastinate!
Once you've qualified your prospects, you'll want to do some viewings!
Don't delay showing the property -- get your viewer out there as soon as humanly possible... Yours isn't the only property on the market -- don't let them rent someone else's while they're waiting to see yours!
Group or solo? A group viewing can be very efficient time-wise and also creates competition for hard-to-let properties. It can also be a bit overwhelming for the landlord so if you prefer, have your viewers come 10 or 15 minutes apart.
If your viewers are keen, it's a good idea to qualify them once again just to be sure. The appointment may have been made by a friend or relative and they may not have known all the answers.
It's Not On Without a Deposit!
No matter how much a viewer seems to be in love with your property, or promises that they'll rent it...
It means nothing unless there is some cold, hard cash in your hand!
Seriously... unless they put their money where their mouth is, take it with a pinch of salt that they will actually come through and sign on the dotted line. You must make them understand that you will keep showing the property until they do so.
How much you take depends on the rental value of your property and how long they want you to hold it for them for. My property letting advice here is to take the equivalent of a week's rent for each week that they want you to hold it for.
Application Forms
Come to the viewing armed with some application forms. If you are using a tenant vetting service -- which I suggest you do -- then they will have forms that you can have the prospect complete there and then. Have each adult applicant complete their own form.
Inventory and condition report
Mandatory tenancy deposit schemes mean that professionally taken inventory and condition reports are pretty much essential.
Why?
Because a poorly or non-impartially prepared report can leave you vulnerable if there is a dispute at the end of a tenancy.
Prepare for a rough ride if you don't vet!
I cannot stress the importance of tenant vetting enough. A bit of time and effort put into this stage of letting can save you from agony later on.
Again, my property letting advice is that you budget for the comparatively low cost of having this done professionally by a company like rentshielddirect.com or homelet.co.uk.
But for those wanting to do it themselves...
Ask the applicant for proof of their income: recent bank statements, payslips
Get an employer reference stating that they are in permanent, full-time employment, their monthly earnings (before bonuses etc) and their length of service
Get a previous landlord reference stating the rent paid, the address, the length of tenancy, whether there were any arrears or other problems with the tenancy and whether they would recommend the applicant as a tenant
If there are pets involved then get a reference for the pet from the previous landlord too. If it is a new pet then it is a risk and consider asking for a higher deposit.
Last but not least, do a credit check using one of the online credit check services like credit-check-services.co.uk.
Check-in for a trouble-free tenancy
When you finally sign the lease with the tenant, you will normally do it at the property. Use this opportunity to do these simple check-in tasks:
Read the utility meters and record the opening readings on the inventory (have two copies of this -- one for you and one for the tenant)
Walk the new tenants through the inventory, noting any discrepancies and have the tenants sign both copies of the document when you're done
Show the tenant how to use the appliances. Especially the central heating / boiler. They will appreciate it. But doing this can save much wasted time and expense in unnecessary call-outs caused by them not knowing how to work things!
Other resources
If you are letting student property in London then check out London2Let.com as they have a dedicated section. We buy property too.
Regulation of letting agents is largely voluntary at present; the main bodies are The Property Ombudsman and ARLA.
Property Letting Advice - Index
Check out these sections for more helpful property letting advice...
Free Webinar: "7 Top Tips for Finding Great Tenants"
In this exclusive PiB webinar, letting agency owner and seasoned investor Brett Smart shares hard-earned tips and tricks that you *need* to know in order to find quality tenants who will take care of your property and pay the rent!
Preparing Your Property For Let
We look at the 3 things that you absolutely must do before you let your property out.
Cheapest Investment Property Insurance Tips

Before you let your property make sure it's insured! Consider rent guarantee insurance too...

Guide to Furnishing Investment Property

Furnishing investment property can be tricky... How do you know what to provide? Is it best to let unfurnished? We answer all your questions in our easy guide...
How to Let Really Nasty, Smelly Houses
Have you ever had a property back from a tenant in a *state*? So have I and I let it in a week without doing anything to it.  Find out how here.
By this stage I'm sure you're ready for some light relief. We've gathered together property quotes from some of the greats, for your pleasure and amusement :)
A free download of my book, packed with property letting advice.

<< Back to Property Investment Blueprint from Property Letting Advice