Guide to Furnishing Investment Property
Furnishing investment property is a bit of a balancing act...
How do you provide what your ideal tenant will expect, whilst keeping expenditure to a minimum?
We'll discuss how here, as well as exploding a myth about furnishing rental property!
To furnish or not to furnish?
This is the first question you need to ask yourself.
Unfortunately there is no definitive answer. It completely depends on the type of property and the location.
Often larger, family properties will have higher demand unfurnished. Families will normally have accumulated their own furniture. Exceptions to this would be where the family is relocating from abroad or staying for a limited time for a work contract. Also, some families on housing benefit do not have their own furniture.
One and two bedroom flats will normally be required furnished. Again there will always be exceptions... for example where a couple have sold a family home and are down-sizing.
The best way to gauge demand for your particular property is to simply ask a local letting agent.
The "just in time" approach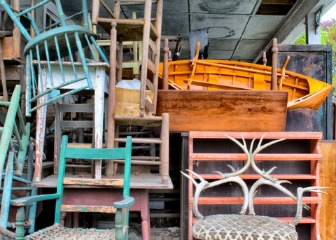 When they purchase a property, some landlords decide to show it to viewers as is and then purchase furniture only if the tenant requires it.
This is great from a budget point of view as you could luck out and find a tenant that has all their own furnishings.
This approach can work in areas / properties of high demand. But if that doesn't apply to you then you may find that the property takes longer to let. The reason being that people always find it easier to imagine themselves living in a property if it is furnished and presented well.
Another drawback of this approach is that sometimes tenants will hesitate to commit as they are unsure whether the landlord will provide quality furniture. If you show your property with the furniture it will be let with then there can be no disputes later on!
If you do go for this approach, then I would recommend that as a bare minimum you have window and floor coverings fitted. And make a bit of effort to dress and light the property to make it attractive to your prospects.
All about the white goods
If a property is provided with kitchen white goods: fridge freezer, washing machine - then it is considered "part-furnished".
A tumble drier and dishwasher are optional but will certainly be expected in higher-end properties.
Most tenants require white goods but as always, there are exceptions. I was asked to remove a fridge-freezer from one of my houses recently as my housing benefit tenant had her own.
Who are you furnishing for?
Keep your target tenant at the forefront of your mind when furnishing your investment property.
Are they a single professional, a family?
For example, if you are going to let a modern city centre apartment, then your target market is most likely to be a single professional person or a professional couple. So present it with quality – that doesn't have to mean expensive! - contemporary furniture.
If you are letting a suburban terraced house, your target market is more likely to be a family.
If your property could appeal to more than one type of tenant, then it is best to keep your options open and don't exclude anyone.
Don't let your furniture break the law!
It is sometimes tempting to use second hand furniture for lower-end properties.
If you do, be careful that you are not breaking the law, which states:
the furnishings in any property let for the first time after 1st March 1993 should be fire-resistant
this applies to all sofas, beds, pillows, mattresses, bean bags etc., but not to carpets, curtains or duvets
furniture manufactured prior to 1950 is exempt as flammable materials were not used before that date
as a guide only, furniture manufactured after 1st March 1990 should comply
to comply with the regulations, furniture must be fire-resistant and in most cases carry a label to that effect.
Furnishing Investment Property - Summary
Furnishing investment property can be tricky but if you know your target market, it gets a lot easier! Just make sure you remember to check everything for fire safety compliance.
<< Back to Your Property Power Team from Furnishing Investment Property

<< Back to Property Investment Blueprint from Furnishing Investment Property