Property Investor Websites
5 Vital Elements Of Highly Effective Property Investor Websites
In this article, I'll argue that property investor websites enable you to "hack" your authority and position yourself as the local property expert... Even if you don't actually have much experience.
'So, what's your website then?' the seller asked as I stood in his front room, all set to make a deal to buy his property (or so I thought).
A lump grew in my throat and a bead of sweat formed on my brow, as I realised that I wasn't going to be able to bluff my way out of this one. 'Erm, I don't have one,' I responded sheepishly. I was MORTIFIED! I couldn't get out of there fast enough.
I suppose I don't blame them though, I mean would you do business with a company that didn't have a website these days? Nothing says 'fly-by-night' more clearly than not having a business website.
Needless to say, I did not get that deal and had to leave with my tail firmly between my legs. However, on that day, I resolved that I would get a website ... and get a website I did. But, I woefully underestimated what a website would do for my business.
I found that having a website instantly elevates you to expert status. It's a bit like having a best-selling book to your name.
Do you think this might be especially useful if you're new to the property investing game?
Property investor websites instantly elevate you to expert status
You betcha it will.

As a beginner, there's no better way to elevate yourself to expert status in your prospect's eyes. Your expertise is now assumed and this makes the whole deal-making process so much smoother and more predictable.
It's nerve-wracking enough visiting your first few prospects as a newbie, but imagine the extra confidence you'd have if you had a professional-looking website that your prospect could look at ahead of time to pre-sell you before your visit.
At the very least, you won't experience the same embarrassment that yours truly did if asked about your website!
Property investor websites can even help to elevate you above your local competition, even if they're more experienced or may be offering more. Most folks will prefer to sell to someone who has a professional web presence versus someone who they may never be able to find again if something goes wrong.
When a website is used, we call it Digitally Enhanced Prospecting, as it enables you to convert your deals faster, easier, and with much less resistance.
See The Property Investor Website Themes
Motivated seller websites
Consider when someone sees your offline marketing material. They want to try to find out if you're legit, so they'll probably try to Google your phone number, won't they? And, when they don't find anything, their confidence in you is going to be pretty low. If, instead, they find your professional looking website, then that's going to be a very different story.
Property investor websites are a powerful timesaving mechanism too; it helps to qualify your sellers for you and acts as a salesman who never sleeps, working for you round the clock to sell your service.
If you're looking to get into property alongside a full time job, then you'll find it invaluable.
Any old website will not suffice though. Let's look at the crucial elements that property investor websites must have.
Property lead generation websites

Crucial elements of a property lead generation website
Most types of property websites—especially deal sourcing ones—will have a lead generation element to them.
But, not all property investor websites are created equal when it comes to effective lead generation. The prettiest and most expensive website could still be terrible at generating leads. That can be the difference between a website built by a designer and one built by a digital marketer.
Think about it like this: if you're running an online marketing campaign (more on this later) and you're paying to send visitors to your website, then you're going to want as many of those visitors to convert into leads as possible.
We have found that there are five critical elements that ensure that the prospects who visit your website are psychologically compelled to contact you and do business with you.
Free download
I created a PDF showing all the critical elements of property investor websites and placed it into the Property Hacking Vault for you. You can get hold of that via the link below and have it beside you as you read this article:
propertyinvestmentblueprint.co.uk/bonuses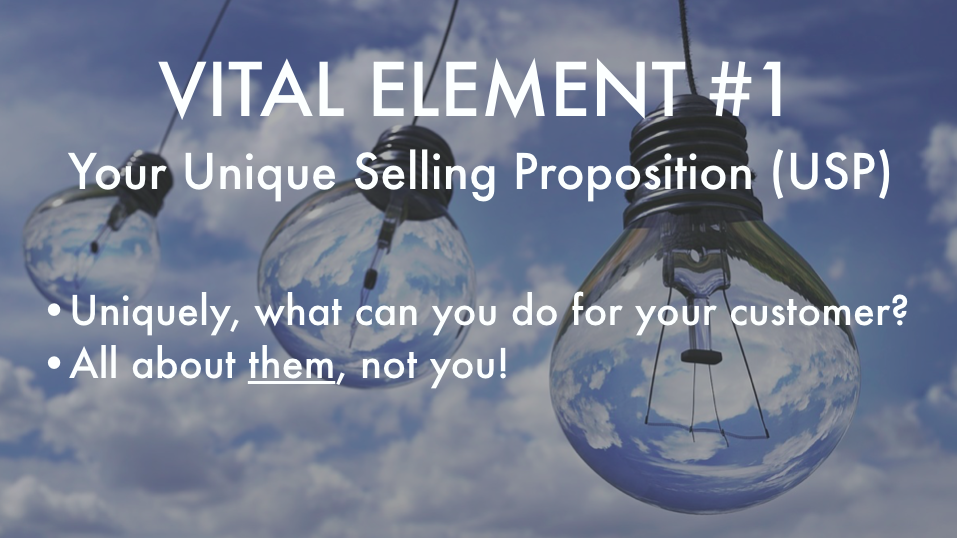 Vital Property Investor Websites Element #1 - Your USP
A unique selling proposition (USP) is a statement, usually most prominently seen in the headline on your website, that states what it is that you can do for your customer. If possible, you also want to encapsulate what it is that differentiates you from your competition.
The effect you're looking for from your USP is for your website visitor or prospect to read your USP and then say: 'This is the exact service I'm looking for.'
In general, you just need to differentiate yourself from the traditional way of selling a home, i.e. through an estate agent, although if you can think of ways to differentiate yourself from other quick property buyers, then you can work that in too. For example, you might consider your service more friendly or flexible than other similar services in your area.
When you're formulating this, the number one rule to remember is that it's all about them (your prospect), and not you!
What to include in USP?
You want to include the benefits of using your service. You also want to include the location you're targeting, because as well as seeing benefits, you want your prospect to see that you operate in their area.
USP examples
Here are a few examples of USPs that you can tweak for your own use:
Sell Your Newcastle House Free, Quick And Easy With Us.

Get A Quick Cash Sale For Your Sheffield Home, Any Condition!

We Buy Cambridge Houses, No Fees, Quick Completion.
Try to keep your USP simple and don't try to be too clever!
Where to put your USP?
You want to put your USP in your website heading; that is the words in large type at the top, below the menu bar.
You may have a sub headline too, in which case this gives you another chance to squeeze more benefits of your service in. So, for example you might have:
Sell Your Newcastle House Free, Quick And Easy With Us.
Get a Quick Cash Sale For Your House. Any Condition.
You also want to have elements of your USP woven throughout the copy (or text) on your website.
Vital Property Investor Websites Element #2 - Hero Shot
The saying goes that a picture is worth a thousand words. A hero shot is simply a picture (or indeed a video) that demonstrates the results of your service. Now, showing the results of your service is obviously easier with visual services like beautician or personal trainer, where you can easily show a before and after shot of your work.
It's a little more of a challenge, but with property, we can still think of ways of demonstrating the results of what we do, e.g. a house with a sold sign outside of it, or even better, a smiling couple holding a sold sign outside their house. This way, we're conveying the experience and feelings that our prospect wants to feel when their house is sold.
Including this kind of picture on your website almost seems like a no-brainer, but sometimes people don't think of putting that in there. It helps your prospect imagine how you can help solve their problem for them.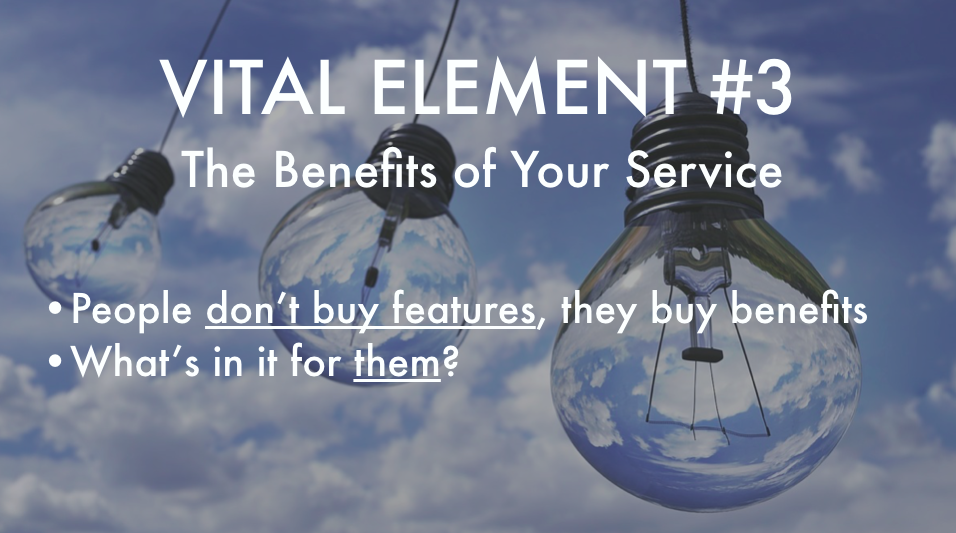 Vital Property Investor Websites Element #3 - Benefits of your service
The next thing we want to focus on is the benefits that your prospect will experience when using your service. We touched on this in the USP section, but we'll look at this in a little more detail here, and I'll explain why this is important.
The crucial thing to realise here is that people don't buy features; they buy benefits. They are concerned only with what's in it for them. The best way to illustrate this is with an example.
So, let's say you want to boast that you've been in business for two years: 'Our company has been in business for 2 years.'
You may think that's great and yes, it does begin to indicate that you may know what you're doing, but we need to spell that out a bit, and the way we do that is by writing what's called features with benefits.
Instead of just stating a feature, we state how that feature is going to benefit the prospect. So, our example becomes: 'We've been in business for 2 years, and we have the local knowledge we need to give you a really fast offer.'
Do you see how this is going to sound a lot more compelling to a prospect?
Where to put your benefits?
You'll put your benefits throughout your website copy and also bullet points are really effective at breaking those benefits down. Bullets have the added advantage of breaking up the text on the page and drawing attention to your benefits.
Here's an example of some benefits bullets:
Fast cash offer

– We're full-time property buyers, so we can make you a cash offer within 24 hours of contacting us.

No repairs needed

– We buy houses in any condition, so you don't have to lift a finger to do any expensive repairs.

Quick completions

– We can complete as fast as you like, but if you have a schedule, then we can work to it.

No commissions

– We're not estate agents, so we don't charge their hefty fees. This could result in a saving of thousands.

No fees

– No fees, ever. We pay you what we offer, and we may even be able to pay your legal fees for you.

Fully confidential

– None of your neighbours need to know you're selling until they see the moving van.

No chain

– Unlike a regular buyer, we're not waiting for someone to buy

our

house, and this gives you peace of mind that your sale will go through.
Just be careful never to promise anything you can't deliver on.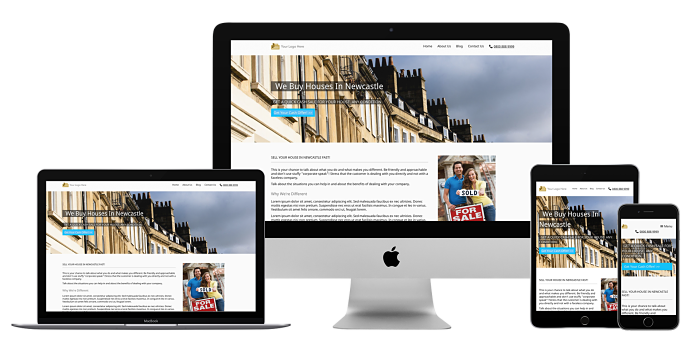 Vital Property Investor Websites Element #4 - Social proof
Social proof is a very powerful method of persuasion. What social proof does is illustrate that others have used your service, or approve of it. This can be achieved with things like:
Testimonials

– this is a short statement from a past customer talking about how you helped solve their problem. Ideally, it should talk about the situation they were in, speak of how efficiently you solved their problem, and end with how delighted they were with the service. A text-only testimonial is good, but it is better if you can get them to agree to let you use a photo, and it is way better if you can film a short video.

Stats

– for example: we

have

helped dozens of people in the Newcastle area to achieve a quick sale for their property.

Case studies

– you can use a case study when you're unable to get a testimonial for a purchase you've done in the past. Simply describe the situation and how you helped. Leave out any names or just use initials, unless, of course, you have permission to use them.

Social media accounts

– link up any social media accounts that you have for your business. People like to know they're dealing with a real person, and this is one way to prove that. This can backfire too though, if you're posting a lot of 'not safe for work' type content on your Facebook page then best not link that at all!

Trade association logos

– having trade association logos (that you are a member of) on your site can give prospects reassurance that you are a legitimate and trustworthy business.
What if you have no social proof yet?
Obviously, if you're just starting out, then you may not have any track record or customers to ask for testimonials, don't worry! I definitely don't recommend that you 'fake it till you make it.' Instead, leave the testimonials out until either you get one or you get a character testimonial from a friend, colleague, or fellow investor. Even ask your mum if you have to!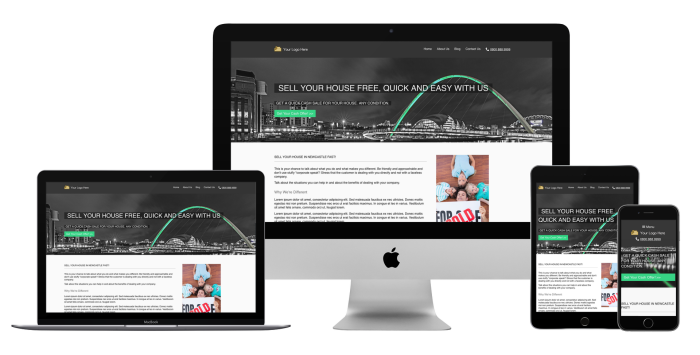 Vital Property Investor Websites Element #5 - Calls to action
Your site must include many clear calls to action. A call to action is simply telling your prospect what you want them to do next. And you need to give them multiple opportunities to do it.
Again, this seems like an obvious thing you need on your website, but you'd be surprised at how many property investor websites either forget about a call to action or conceal it deep in their copy.
Your website should have multiple calls to action 'above the fold.' Above the fold is an old newspaper publishing term that refers to anything that you can see at the top of a paper when it is folded in half. In website terms, this refers to anything that you can see without having to scroll down the page.
The kinds of things you can have above the fold are a telephone number in the header bar and a bold button that says something like 'Get Your Cash Offer Now.'
Lower down the page, you can have an enquiry form where your prospect can request an offer from you. You can have a 'get in touch' section further down the page too, with links to your social media, your email address, and another button.
In addition, you should finish the copy on each page with some text telling readers what to do next, e.g. 'If you'd like a no-obligation cash offer for your property, then simply fill in the quick form below or call us now at 0141 123 4567.'
Don't go overboard with calls to action; just don't leave your visitors guessing what you want them to do next.
What's more, don't have too many different types of call to action. A phone number and a 'request an offer' form is quite sufficient. If you start to ask people to sign up for a newsletter or a free report or something then you're muddying the water and people will be less likely to do anything at all. Too much choice can be a bad thing!
Property investor websites
Those are the main five elements you need for effective property investor websites.
But, there are three deadly mistakes that can kill any chance you have of being successful with a property lead generation website. I talk about those in my book, Property Investment Hacking. You can get a free copy of that here.
You can check out our property investor website themes, and decide which is best for your business here.
Property investor websites themes
Property Deal Sourcing Websites
If you're planning on sourcing by going direct to motivated sellers then this deal sourcing theme will be your best friend. This theme boasts blogging function, live chat and newsletter functions.
If you have a rent to rent business, then you need an online presence that will sell your service to potential landlords, and showcase your rooms to potential tenants. Our unique rent to rent theme does both!
Using the same website to target motivated sellers and investors is a big no-no as it will turn your sellers off immediately. This investor-focused theme will help you grow your investor list and showcase your deals in the secure members area.
Serviced Accommodation Websites
If you're running a serviced accommodation business then having your own website is a priority because taking bookings direct on your site will help you reduce your platform booking fees.
Planning a refurb, a commercial conversion or even some new-build development? Showcasing your finished project on a site like this will have multiple advantages: ease the sale (people aren't buying bricks, they're buying a lifestyle and that's what you should be selling them. A dedicated website is key to doing that) and save time and cut down on pointless viewings by letting people see beautiful pictures of your project.
Property Coaching / Training Websites
Offering property coaching or training can add a very lucrative income stream to your business. Use this site to showcase your courses and mentorship and even take payments or schedule coaching sessions in your calendar, right there on the website.
Corporate / Lease Options Websites
If you simply want a place for your property company to live online then this is the theme for you. Perhaps you already have a seller-focused or tenant-focused website but you need a professional online presence that you can use on your business card, or even to garner that all-important credibility if you are seeking funding for your projects. Additionally, if your strategy is to get lease option deals from agents, a professional website is vital, to show them that you mean business.
Credibility is super-important when putting a lease option deal together and this clever website site allows you to build that and educate your tenant buyers on your service. The newsletter feature lets you build your tenant buyer database and mail them whenever you have a new home available.
If you're sourcing land for developers or even for your own projects then this is the theme for you. Use this site on your marketing to position yourself as the local land expert with the quick and easy solution to land-seller problems.

<< Back to Property Investment Blueprint from Property Investor Websites