Property Education Websites
See The Property Investor Website Themes
Property education websites
I remember once hearing Rob Moore of Progressive Property, say something that struck a chord with me and has stuck with me to this day…
He said something along the lines of "you only have to be a few deals ahead of the people you're coaching"…
The thought being that you don't need to have a giant amount of experience, or even be some kind of guru-like expert to be able to pass on your knowledge to others…
In fact, I would argue that a student doesn't want someone who is so far ahead of them that they forgot how they got there, to coach them…
Instead, they want someone who is relatable… someone not unlike them… someone who they can see themselves emulating without too much difficulty…
So, if you've ever had thoughts of sharing your experience with others, via coaching or courses, being a property mentor, trainer or coach…
Do it!
Property education websites help you promote your brand
...and if you weren't thinking about it, then you should...
Because adding coaching or courses can provide a very lucrative additional income stream to your business...
And if you've ever read "Rich Dad, Poor Dad", you'll know that multiple streams of income is something that every entrepreneur should strive for...
Just so happens we've added a specialist Property Trainer theme to our Guerrilla Property Websites platform.
The site allows you to sell courses or coaching online and even schedule client time using the built in booking calendar system.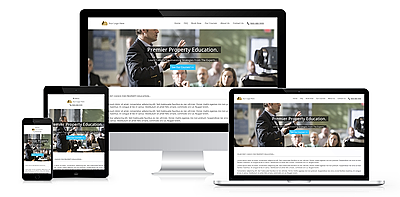 Our stunning Property Education Websites theme
You can host your training material on the site too, behind a password protected wall. 
You can get your site up and running today for just a low monthly subscription!
And for the next few days, we're offering two websites for the price of one!
(Your other website can be any one of our range of 10 stunning property investing themes!)
Discover the themes and secure your Property Trainer website here.
<< Back to Property Investor Websites from Property Education Websites
<< Back to Property Investment Blueprint from Education Websites