Tenant Buyers
OK, so you've just tied up a sweet property option deal...
With decent cashflow potential, and a nice back-end lump sum coming to you down the line...
Pat yourself on the back by the way, that's not easy to do!
Still, you're not home and dry just yet...
You have to get tenant buyers in there.
And preferably before your first monthly payment is due.
Let's look at the options that you have to do that...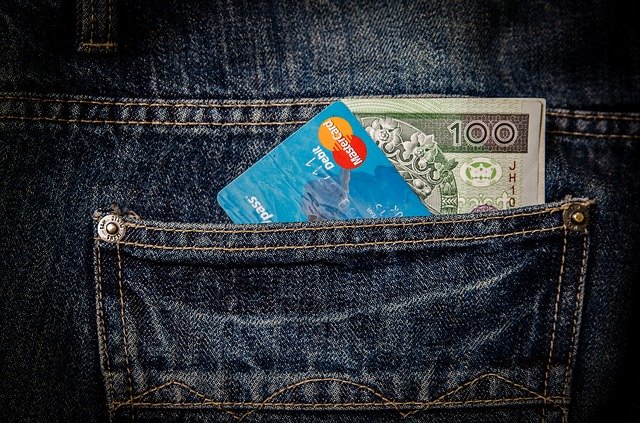 The ideal tenant buyer knows what rent to buy is AND has the funds to move fast
Guerrilla marketing...
Certainly for me, my number one go-to method used to be guerrilla marketing in the vicinity of the property that I had available...
Give me a yellow correx board, a magic marker, a couple of cable ties, and I was good to go...
Here's one of my old boards below.
One thing I used to do was put a woman's name on there.
I did this simply because that's less threatening than a man's name, and people are therefore more likely to call...
Also, I used a name that started with the same letter as the street name that my property was on.
That way, if I was marketing more than one rent to buy property at the same time, I knew without asking the tenant buyers, which one they were calling about.
Because if I had to ask them, they'd know that I had more than one...
And all of a sudden the one they called about wasn't so special, because there wasn't just one available...
And they'd become harder to close.
(Full props go to godfather of lease options, Rick Otton, for those pro tips!)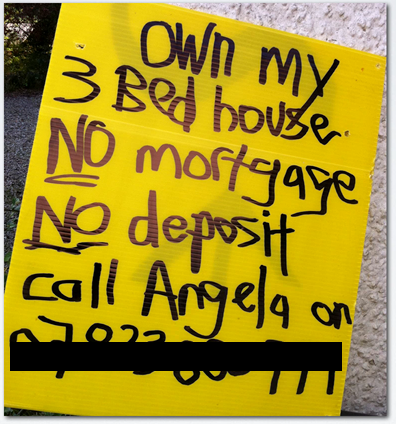 The downside of local marketing...
I'm certainly not saying don't do some local guerrilla marketing...
Because, if you're anything like me, your phone will definitely start to ring.
But the problem that I found was that most of the folks who phoned were either totally unqualified for the opportunity...
Or they were super-skeptical about what I was proposing.
What's the alternative?
Take a second and imagine your ideal tenant buyer lead?
They'd already know what rent to buy was...
They'd already know that they liked the idea, and that it was right for them...
They'd maybe even be actively seeking a rent to buy opportunity...
Imagine you could access a group of these tenant buyers, at the click of a mouse?
Well, imagine no more!
We get a steady stream of tenant buyer leads through this very website...
These good folks searched for something like: "rent to buy" or "rent to buy scheme" on Google, and they found us.
So, they were already looking.
And then they went to the trouble of filling in, and submitting, quite a long form on our web page.
So these leads are pretty motivated, and at this point, all you need to do is contact them and match them up with your opportunity.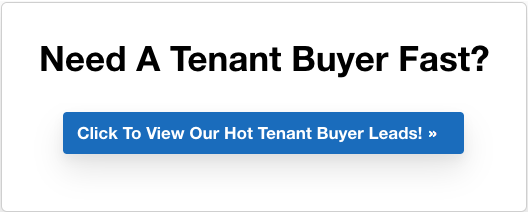 Your tenant buyer leads store...
For each lead, you'll be able to see:
the area they're looking in, 
what they can afford each month, 
the type of property they want (though don't pay too much attention to this: if you have a flat and they want a house, you just have to convince them that getting on the housing ladder is their priority, and they can trade up later!)
the minimum number of bedrooms they need.
Once you purchase a lead, you get access to their name, email, and phone number.
Every lead is guaranteed, so that means you can buy in confidence, knowing that you'll either get a refund or a new lead, if you're not able to contact them due to a duff phone number. 
Oh, and we only ever sell each lead once, so don't worry about people being contacted multiple times before you!
Visit our tenant buyer leads store, to see if there's anyone already looking in your area.
We get a new lead from somewhere in the UK almost every day, so be sure to check back regularly if you don't see what you're looking for right away.
Even better, subscribe to our newsletter, and you'll get notified about new leads coming in every week.
Tenant buyers - Index
<< Back from Tenant Buyers to Property Investment Blueprint