How to find tenant buyers: 3 ways you might not have considered
Wondering how to find tenant buyers?

That's the very same situation I found myself in, way back in 2010, when I get my first lease option deal. 
I'd just made a partnership with another investor (which actually didn't end great, but that's a whole other story!)...
And we'd found a property where the seller was willing to let us "babysit" the mortgage, and control the property with a lease option. 
You know the drill.
We were, of course, elated and thought we'd soon be laughing all the way to the bank.
Little did we know that was perhaps the easy part.
And the hard part was about to begin!
How to find tenant buyers method #1 - the trusty yellow correx sign
How to find tenant buyers method #1 -- Trusty yellow correx sign
We started off with the whole old trusty hand-written correx boards at the property. 
My favorite is always black magic marker on yellow board. 
You can put one in the front garden, on a a post or attached to a fence, if there is one. 
Or if it's an apartment, then you can put hand written posters in the windows. 
I once did that for a flat I had available, and I had several missed calls on my phone, by the time I'd made the twenty minute car journey back to my home!
Another property I had available wasn't on a main road, so the sign in the window wasn't going to get many eyeballs on it...
So I threw up a yellow bandit sign on the main road too. 
I think I even put one on a railing by the local train station, if memory serves. 
I got a really nice set of calls for that one, and ended up with an excellent tenant buyer, who is actually still in the property to this day. 
Their option has actually expired now, but I'm not complaining...
They're the best tenants I've ever had. 
They pay their full market rent every month without fail.
They've decorated the property (more than once, for all I know!), and fitted a new kitchen. 
And I've not once had a call for a repair, in the nine years they've been there. 
That's the beauty of a tenant buyer right there!
And that's compared to the three years I had that property before they went in...
I couldn't keep a tenant in there for more than a few months. 
And they frequently didn't pay their rent, and left the place like a pig sty.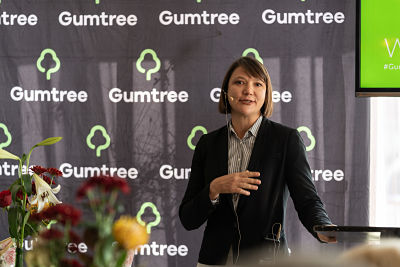 Advertise for tenant buyer leads on Gumtree
Method #2 -- Gumtree
The second method I've had success with is Gumtree. 
You can place a free* ad on there, and get replies forwarded to your email.  
Place it in the property for rent section. 
And remember to focus on selling the opportunity, as opposed to the property!
* You never used to have to pay for these ads, but I posted one yesterday for the first time in a while, and I guess they figured I sounded like a professional landlord and deleted it.
So, I had to check the box "I am acting as an agent" when re-listing (even though I'm not, because it's my property!), and pay the £11 fee.
Hey ho.
But I've had two rabidly keen leads so far, so Gumtree definitely still works!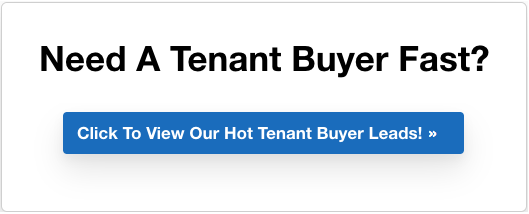 Method #3 -- Buy leads
There's a third method that wasn't around when I was doing those deals, but I really wish it was. 
And that's buying tenant buyer leads. 
You won't find this in many places. 
In fact, as far as I'm aware, we're the only ones that do it. 
And of course we can't guarantee that you'll find a tenant buyer in your area. 
But it doesn't hurt to take a look. 
And you can buy with confidence, knowing that if you can't contact the prospect on the phone due to a bad number, or reach them by email, then we'll either refund you, or give you a replacement lead. 
Can't say fairer than that. 
Whatever method you choose, I wish you all the best with your investing, and hope you find a great tenant buyer soon! 
<< Back to Tenant Buyers from How to Find Tenant Buyers
<< Back to Property Investment Blueprint from How to Find Tenant Buyers