Serviced Accommodation Websites
See The Property Investor Website Themes
Serviced accommodation websites
It's well-known in the SA world, that platform fees knock out a big chunk of your profits…
That is: the fees that you pay to AirBnB, Booking.com etc. for every booking at your space…
It's also well-known in the Serviced Accommodation world, that if you cultivate repeat bookings (from the same guest or guests), and take those bookings direct, then you'll save on those booking fees (and thus boost your profits)…
But taking the bookings direct traditionally means setting up all sorts of complicated tech stuff…
Serviced accommodation websites boost your profits
And who has time for all that when you're running a Serviced Accommodation business?!!
Not to mention the expense of having a designer set up a specialist SA website!
The great news is that we've just added a specialist Serviced Accommodation theme to our Guerrilla Property Websites platform.
With your new GPW website, you can showcase your spaces and take bookings right on the site…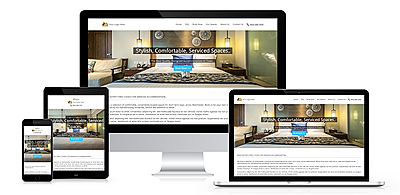 Our stunning Serviced Accommodation Websites theme
If you use a channel manager, then most will allow you to integrate their booking function direct into your site (we can help with that)…
Or if you're not at that stage yet, then you can use our native booking interface to take bookings on the site…
This beautiful serviced accommodation website allows you to showcase your available spaces.
Save booking platform fees by integrating your channel manager...
OR you can take bookings right on the site, using our native booking interface...
FAQ section so that guests can access your terms and emergency info at any time of day or night...
No expensive designers or complicated tech stuff here — you can get your site up and running today for just a low monthly subscription…
Discover the themes and secure your Serviced Accommodation website here.
<< Back to Property Investor Websites from Serviced Accommodation Websites
<< Back to Property Investment Blueprint from Serviced Accommodation Websites