Property Investment Lanzarote: The Pros and Cons
Guest writer Jonny Bailey takes a look at the pros and cons of property investment in Lanzarote. Did you know it was actually illegal to rent to holidaymakers?!
Apparently there's never been a better time to buy a property on Lanzarote – according to local estate agents.  But beyond the promotional hyperbole is that really the case? We take a closer look at the current conditions on this popular Canary Island.
It's a dream shared by most overseas investors.  Buy a place where the sun shines all year round and just sit back and enjoy the rental returns.  And the small island of Lanzarote, located just off the coast of North West Africa, certainly appears to be an ideal choice – as it boasts a buoyant tourist market that can deliver bookings for 12 months of the year.  Whilst house prices also remain well below 2008 levels, having dropped some 20% since their pre-crash peak.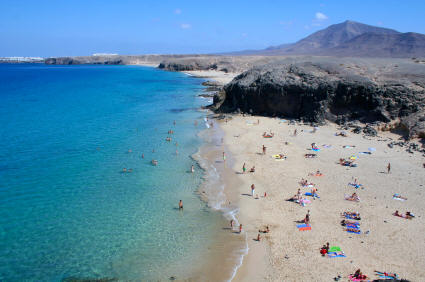 But as with all overseas markets there are plenty of cons as well as pros for investors to consider - not least the fact that Lanzarote is part of the still ailing Spanish economy – which seems to offer little in the way of serious capital appreciation for owners in the short to medium term.  
Traditionally, the prime attraction of the Lanzarote property market is that it has always provided reliable rental returns.  The UK is the mainstay of the islands tourist industry – last year around 850,000 British holidaymakers touched down at Lanzarote airport – and this year the island is on target to welcome over 2 million tourist guests.  Fuelled by the ready availability of cheap flights with budget airlines and reasonable four hour flight times from Northern Europe.  
Perpetual summer = minimal voids
Best of all for owners, these arrivals are spread throughout the year, as Lanzarote is both a winter and summer sun destination – so unlike mainland Europe the rental season never ends. And as Lanzarote is part of the EU (despite its location off the coast of North West Africa) there are no paperwork hassles or residency issues to contend with either.  
However, there is still a level of risk involved – not least as renting property out to holidaymakers is still something of a grey area on Lanzarote.  Officially speaking this practice is technically illegal and is frowned upon by the local authorities – who claim to be concerned with maintaining accommodation standards on the island and who only recognise properties with an official tourist licence.  Plenty of political funding in the Canaries comes from major Spanish hotel chains too, so politicians are also under constant pressure to appear to enforce these laws.  
An unofficial rental boom
Unofficially however the private rental sector on Lanzarote has been allowed to boom largely unchecked over the last twenty years, as these same politicians are also aware of the importance of independent travel to the overall economic wellbeing of the island's economy.  As a result the laws governing rental properties are rarely enforced and there are currently thousands of owners openly listing their properties on holiday rental sites such as Owners Direct and HomeAway.
As a result it is vital for overseas owners to be fully on top of their tax obligations – as local accountants advise that paying these in full is the best way to avoid attracting the attention of the authorities.  Whilst other hidden costs of property investment in Lanzarote can include outgoings on marketing the property (it won't just rent itself) and property management and maintenance fees – which can quickly mount up for absentee landlords.
Investors should also be mindful of competition levels – there are already thousands of villas for rent on the island all with similar price points and offerings. So what will you be doing to differentiate your property from the rest of the pack?
Guest author bio
| | |
| --- | --- |
| | Jonny Bailey is MD of Atlantico Homes, one of the longest established estate agencies on Lanzarote with offices in the main resort of Puerto del Carmen.  Visit their website to view hundreds of properties for sale across the island or contact them for info on property investment in Lanzarote. |
<< Back to Property Investment Articles from Property Investment Lanzarote
<< Back to Property Investment Blueprint from Property Investment Lanzarote