Property Sourcing Agents
As UK property sourcing agents, we bring you the best in HMO deals, Serviced Accommodation deals, Development deals and more!
Please watch the video below for more information on our service. In the video, you'll discover:
How we can help you hit your investing goals
Who we source property for
What types of deals do we source for our clients?
How does our property sourcing company work?
Property sourcing agents video transcript
John Wilson here from Property Investment Blueprint and as UK property sourcing agents, we promote property deals all over the UK, from carefully selected sourcing partners. And that means that you get the best of the best, all in one place. Our aim is to help you reach your investment goals.
Now that may be just to secure a small second income. It might be to build a retirement fund and secure your future. It might be to go all out, and go for Financial Freedom and pack in your day job, like I did, so we're here to help you with that. Now we Source property for clients in the UK and also for clients abroad so it doesn't really matter where you are.
So, what kind of deals do we Source?
Property sourcing agent UK
Well, once you've signed up to our list, you will send you daily property deals bulletins. Well, they may be daily, but they are usually less frequent than that, but we send out these emails whenever we have a deal to to put to you. So these can be HMO deals. So that's a house in multiple occupation; a very high yield type of deal.
They could be a rent to rent deal, the type of deal where you don't have to get a mortgage in order to take the deal. It could be a land deal from now and again. We get development deals, with pieces of land that have, either do have planning permission, or don't have planning permission on them for developments.
We have ready made deals. So buy-to-let properties that may have tenants already in place. Sometimes HMO properties that may have tenants already in place, that are producing income and ready for you to put in your portfolio.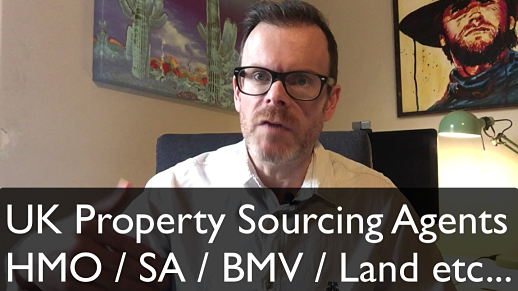 Serviced accommodation deals. Sometimes we have properties that come up that are suitable for serviced accommodation. For example just today, we sent out a deal that was a block of six flats, suitable for rental as service accommodation, which if you did that, it would produce an income estimated of around 12,000 pounds a month. A gross income that is. And so, serviced accommodation deals, blocks of flats. 
How does it work? Okay, so you would start off by signing up to our deals bulletin. You can do that either via the form on this page probably under this video. Or, if you're not watching this on our website, then there will be a link, probably underneath the the video in the description box.
And once you've done that, you basically just watch your email for our alerts that come out, and when you see one of those with a property in it that you like, then you would simply fill in the contact form, from the link in the email. Our partner would then contact you for a no obligation, informal chat about your investment objectives and give you and for more information about the deal that has been presented.
Property sourcing company
So, once you have that information, you would then go and do your due diligence. Of course, you must do that on any investment, be it property or otherwise, that you are going to consider. Once you've done your due diligence and you are happy that you would like to proceed, then you would get back in touch with our partner and and put down your reservation fee.
We would normally require a reservation fee to reserve that property. And then our partner agent would keep in touch with you and keep you updated throughout the entire process. We've had many happy customers use the service and if you would like to be one of them then fill in the form on this page.
And we obviously hope that you know, we want to do an amazing job for you, so that we can form a long-term partnership and do business with you again and again and again and help you reach your investment goals.
So we do look forward to doing business with you and just complete the form on this page, and I'll speak to you soon.
<< Back to Property Sourcing from Property Sourcing Agents
<< Back to Property Investment Blueprint from Property Sourcing Agents