How to Structure Property Instalment Contracts
In this video, John discusses how to structure property instalment contracts for a win-win outcome.
Learn more about instalment contracts with Rick Otton.
The PiB mortgage amortisation calculator.
Ask your property investment question here.
In this episode
0:30 - Selling flats on an instalment contract is not easy 1:01 - You have a lot of freedom as you're not constrained by seller 1:23 - I would be tempted to pitch price high 90's 1:30 - Many buyers don't ask price till after they've agreed to buy! 1:51 - I would want to keep buyer in deal for as long as possible 2:07 - Setting the interest rate 2:43 - Use an amortisation calculator to work out payments 2:51 - Public health warning!
PiB subscriber Graham emailed in to ask advice on how to structure the sale of one of his own properties on an instalment contract.
Video transcript
John Wilson here with some advice on structuring deals with instalment contracts.  So PiB subscriber Graham is looking to sell a flat that he owns using an instalment contract.  The flat rents for £520 per month and is worth £85,000 to £90,000.  
Now, first of all, in my experience, selling flats on instalment contracts is not as easy as selling houses but that obviously depends on your market, the area it's in and the condition of the property.  However, we normally find it's easier to do with family type houses, houses with a garden and a front and back door and so on but that's not to say that you shouldn't try, especially if it's a place that you own yourself.  
In terms of structuring the sale, you have a lot of freedom in this case because normally, you're constrained by the terms that you've set up with the seller, but since you're the seller, you don't have a problem there so it's really down to what you agree between yourself and the buyer who is coming in.  Also there's more freedom as well because the mortgage is paid off.  
I would be tempted to pitch the price in the high £90,000's but to be honest, a lot of your buyers you'll find that they don't even ask the price until afterwards: it's more about the affordability of the monthly payments.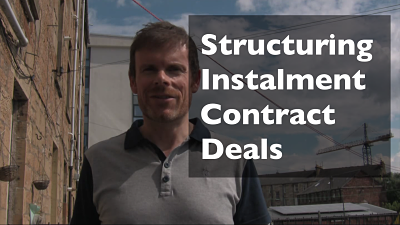 Although you may want to encourage your buyer to mortgage out before the end of the term, you normally structure an instalment contract in the same way as a normal mortgage: over a period of between 20 and 30 years.  If I were you though, in this deal I would want to keep the buyer with me as long as possible because you're going to do really well with the interest they're going to be paying over that period, especially given the fact that you have no underlying mortgage.
Five to six percent for a monthly payment sounds fine.  You don't want to charge more that one to two percent over what they would be paying on a normal mortgage.  Having said that though, we did a deal recently where we gave a percentage of just over three percent, purely for the reason that if we'd made it say six percent, the monthly payments would just have been so far different from the local rent that it would have been hard to get someone interested.  But you can test this by marketing it.  
Use a mortgage amortisation calculator to work out the monthly payments; there's on of those on the site, I'll put a link below the video.
A quick public health warning before I go though. I wouldn't attempt these transactions without some training on instalment contracts first because there are several things that could go wrong if you don't know what you're doing.  So I hope that helps, Graham. 
<< Back to Property Investment Tips from Structuring Property Instalment Contracts
<< Back to Property Investment Blueprint