The HMO Experience: frustrating and wastefully expensive!
PiB is proud to welcome as today's guest writer... my dad!  Also known as Dr Willie Wilson, he wanted to share with us some of the frustrations he has been experiencing with an HMO property he lets out in Aberdeen.  This serves as a reminder that although HMO can be very lucrative, it is not without its challenges.  
There is also an interesting takeaway in here that it is possible to "negotiate" with the powers that be and win, albeit at the expense of time delays.
Do note that the HMO regulations are by far and a way more draconian in Scotland that they are south of the border, for reasons that Dad, er Willie will explain...
I should point out at the outset that my HMO is in Aberdeen and thus subject to Scottish legislation, which differs a little from the English equivalent.  However, the regulations in both countries clearly aim to improve safety and, to a limited extent, quality of accommodation for those who rent a property as a group other than a family group. 
Deaths inspired legislation
In Scotland, legislators wakened up to the need for this when two students in a basement flat in Glasgow died in a fire where no smoke detectors worked and the only means of escape was a window with metal bars.  
The early Scottish legislation appeared in 2000 and has been beefed up by tighter regulations since then.  Formerly, the bureaucratic mechanism was a local authority responsibility, but the lead role has recently passed to the fire service.
I have to confess that I'm an amateur as a landlord, having only two flats under my control.  Nevertheless, it's over twenty years since I started, so I'm not a novice. 
My Aberdeen flat is over 100 years old and is one of four in a block where the entrance door leads straight upstairs to a small landing with doors to two front bedrooms, one back bedroom and a kitchen/living room (which has a backdoor leading to an external steel stairway to the garden).  A stairway to the attic gives access to a larger landing with bathroom and a fourth bedroom.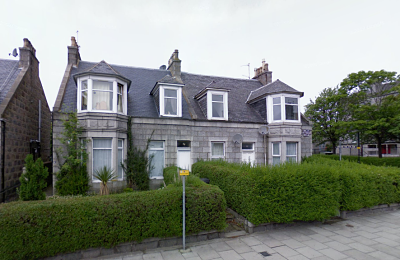 My original HMO licence required installation of smoke alarms wired to mains power in each bedroom and the two landings.  In order to render the original Victorian doors 30-minute-smokeproof, I routed the edges and inserted intumescent strips which, in the event of a fire, block the escape of smoke thus allowing occupants of other rooms to use escape routes.  These doors also had closers fitted to ensure they were not left open in a fire.  The front door lock had to be changed to allow exit without a key.  Electrical testing of the circuits and all the portable appliances completed the process.
Higher fees, tighter regs
The fee to renew my licence in 2012 cost £450 (£200 more than 2009) and involved tighter regulations.  I now required 11 alarms instead of the previous 7 (e.g. the hot water boiler had to be boxed in with fireproof materials and an alarm installed inside this box!)  I had a long dispute over boxing in the electric meters near the entrance. 
My argument was that a fire there would be more likely to be detected quickly and less likely to spread to the bedroom above if it were not boxed in.  This was eventually accepted.  I was forced to renew the attractive old doors since I could not prove that my efforts to double the thickness of the old wooden panelling to 12mm would render them 30-minute-smokeproof.  New doors throughout cost nearly £2000.
No posters; in a student bedroom?!
There was a complete ban on portable heaters of any kind.  In the absence of central heating, this meant complete reliance on fixed electric storage heaters and with two bedrooms over 20 feet long, banning portable electric heaters seems unreasonable.  The inspector demanded removal of all flammable posters on walls – not popular with students!
Perhaps the biggest frustration of the whole process was the refusal of the inspector to prescribe what was required to meet the regulations.  I tried hard to convince him that, e.g. modifying the door panels would make them smoke-proof, but he didn't refuse to accept my attempt until I had spent hours and a lot of work and expense.  Additionally, his demeanour was often unhelpful, aggressive and even obstructive.  I got the clear impression of a bureaucratic bully.
HMO Course
If that has whet your appetite for HMO, let me ask you this: what if you could use properties that you DON'T own to generate £1,000+ per month cashflow? Well with the popular new "rent to rent" HMO strategy, you can do exactly that. Discover more here.
Guest author profile
| | |
| --- | --- |
| | Besides being the editor's dad, Dr Willie Wilson is a retired university lecturer, not-so-retired pharmacy business owner, political activist and amateur landlord. |
<< Back to Property Investment Articles from The HMO Experience
<< Back to Property Investment Blueprint from The HMO Experience